Best Affordable CDN For Any Website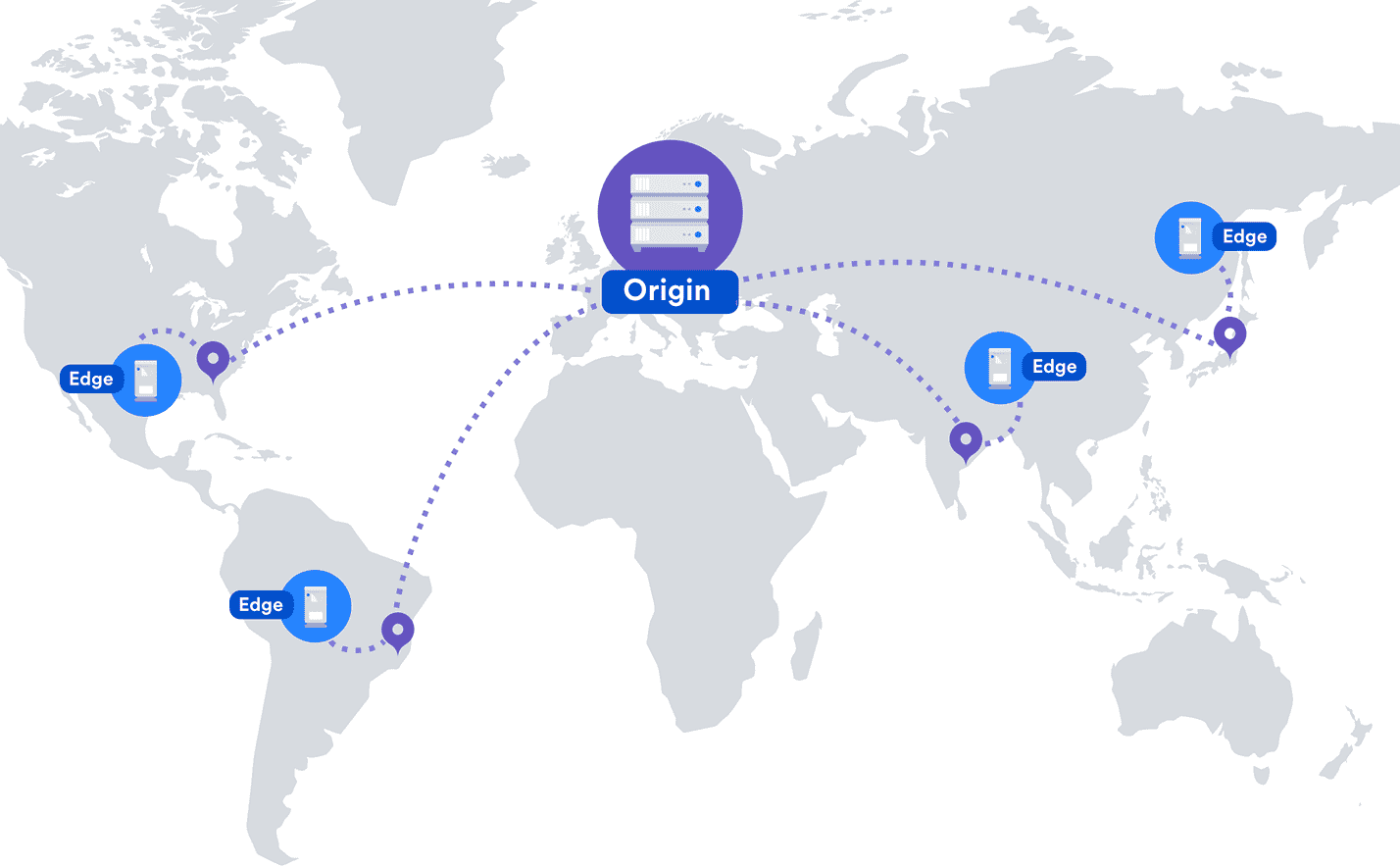 Content Delivery Network is a must-have feature for virtually any website. It provides extra security to your domain and increases page load speed for users worldwide. But how do you find the best affordable CDN service provider for your site?
Don't worry – we've got you on this one. Below, you'll learn about the undeniable advantages of this service. You will also find out that even cheap CDN can be immeasurably beneficial to any domain.
Want to know how to identify the best provider for your website? Then, keep reading until the end.
How CDN works?
Let's make sure that we're on the same page. What is CDN?
Content Delivery Network is a great tool for optimizing content delivery. It is a system of interconnected edge serves (also known as nodes) that uploads files from your primary server. These servers act as additional sources to your content (images, videos, documents, audio, scripts, software, and other files).
Why is that important? Imagine an end-user far away from your primary server who wants to access your site. Usually, it will take more time for him to see your website compared to someone who lives close. However, if there's a CDN edge server nearby, then that user's browser will load content from there instead of the main server.
Best affordable CDN providers can significantly reduce latency and time to first byte (TTFB) for a wide range of users.
For example, BelugaCDN has over 37 POPs, which covers various parts of the globe. It makes user-experience equally smooth for people far away from your primary server.
Reasons to get CDN service
Why should you get a CDN for your website? There are many reasons why it's a must-have service for any portal. Let's find out why.
Page Load Speed Boost
According to statistics, an average web page in 2020 has increased in size by about 500% since 2010. With that said, users don't like to wait. Most of the visitors expect a website to load in under 3 seconds. A little longer, and you can experience conversions decrease and bounce rate reduction.
With the best affordable CDN providers like we at BelugaCDN, you can expect to improve your average web load speed. That way, users worldwide will get to see your website much faster, which will positively affect visitor's retention.
Improved SEO
Page load speed is a huge factor for ranking in search engines. Google takes it into account when placing your website in Search Engine Results Pages (SERP).
Do you want to get a better online reach and attract more visitors? Then, consider opting for the best affordable CDN service to improve your portal's SEO appeal.
Cost-Efficiency
You might be surprised, but CDN can help you get more money. How does that work?
For starters, the proper provider won't charge you too much for their services. BelugaCDN offers plans starting from a $20 monthly subscription. At the same time, the best affordable CDN can take a massive load from your site and compress data. This way, you cut costs due to spending less on bandwidth.
Additional Security Measures
Content protection is one of the primary features of the Content Delivery Network. For starters, it offers extra layers of security from DDoS attacks. Some companies can also provide you with other valuable features (like proxy authentication).
Better Reliability
Do you want to eliminate the risk of unplanned downtime? With the best affordable CDN providers, you won't be affected by sudden surges in traffic that throttle your server.
Tips for choosing a reliable and cheap CDN service provider
So, you want to buy a reasonably priced yet reputable CDN? What should you point your attention to get the best affordable CDN provider? Let's get to it.
Integration

– with BelugaCDN's experts, you can set up and configure your CDN in under one minute.

Pricing

– look for a scalable provider that offers a variety of plans. That way, you can order advanced tariffs when your domain grows in popularity (and traffic).

Monitoring

– get a provider with user-friendly UI and access to real-time traffic statistics.

Background

– check review portals to see what other users tell about your potential provider.
Get the best affordable CDN with BelugaCDN
Are you looking for a reputable and reasonably priced service with great uptime? BelugaCDN is one of the best affordable CDN providers who can offer a wide variety of features for any website.
We offer scalable tariffs and top-notch functionality for the quarter of the price of our competitors. Want an easy to use and feature-rich CDN? Then, experience how BelugaCDN can enhance your website with a 30-day free trial!