Best CDN 2022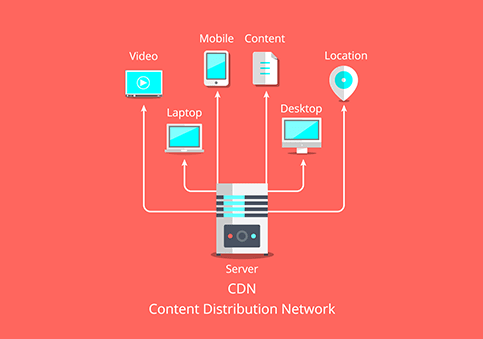 The advent of the Internet has led to an explosion in consumer connectivity, driven by the continued proliferation of smartphones, tablets, laptops, and gaming devices. Today, we have a new generation of digitally empowered consumers that are constantly connected online to search for information, shop for products and services, and purchase content such as music or movies either in the comfort of their own home or on the go.
They are also becoming more and more demanding and impatient, especially when it comes to website speed. A 2017 study showed that 40 percent of visitors will leave a website that takes more than 3 seconds to load while 75 percent won't return to a site if its loading time exceeds 4 seconds. These findings have major implications for businesses that rely on content marketing: a slow website can turn away potential customers and thus can hurt your revenue. Simply put, a quick-loading website is crucial to success in a digital economy.
This is why you need a content delivery network (CDN). A CDN helps optimize your website's performance – and hence boost its speed – by reducing latency. This is accomplished by shortening the distance for a requested content to reach the user, resulting in quicker loading times.
There are many content delivery network companies today, each offering a different value proposition, so choosing the best content delivery network for your blog or e-commerce site takes a little bit of work. Some CDNs are free, such as those for WordPress. Examples are Sucuri, KeyCDN, Amazon CloudFront, Rackspace, CDN77, Photon by Jetpack, SwarmCDN, jsDelivr, and Coral CDN. Other CDN service providers offer free trials (for example, 30 days), like CDN77, KeyCDN, MetaCDN, MaxCDN (now StackPath), and BelugaCDN.
There are also CDNs with free plans that give you the option to shift to a paid or pro plan if you want more bandwidth and other features, including MaxCDN, Google Cloud CDN, Microsoft Azure CDN, Amazon CloudFront, and BelugaCDN.
| Best CDN Providers | Cost |
| --- | --- |
| BelugaCDN | $20 |
| Amazon | $213 |
| Stack Path | $150 |
| Azure | $218 |
| Google Cloud | $200 |
Choose Top Rated Best Content Delivery Network (CDN)
Deciding which CDN is the best can be challenging. But whether you opt for a free or paid plan, there are some important factors to consider when looking for the best CDN that fits your website needs.
Performance
Content delivery networks are expected to make your web pages load faster so that your visitors will have a seamless experience when browsing, playing games, uploading photos, downloading or listening to music, or watching movies. Check whether the Best CDN has a high-performance platform that can optimize the speed of your website. If your site hosts tons of downloadable content, the CDN should be able to handle its large bandwidth demands.
If your site streams video files, the CDN should help you eliminate video buffering and lags. Look for a CDN with features such as those for video and Secure Sockets Layer (SSL)/Transport Layer Security (TLS), which are particularly suitable CDN for video streaming and even for advertising platforms and online media publishers; for smart image optimizations; or for taking SSL workload off of the origin server.
Security
Not only does the CDN make your website faster by accelerating the delivery of your content to end users, but it should also provide a robust level of defense against all forms of cybersecurity threats so that your data will be sent securely over the web. Look for a CDN with web filtering technology that can detect and mitigate DDoS attacks, limit content spam, block bots, and keep you protected from hackers and other bad guys on the Internet. A good CDN also offers high-end authentication options, such as token-based authentication or a two-step authentication login process.
Customer service/support
Every content delivery network service provider should be available 24/7 and respond to your request for support by phone or live chat. The CDN's customer support team must have a high level of technical knowledge and more importantly, the ability to proactively address issues and resolve them as quickly as possible, with a ticket response time of a few minutes or less.
Pricing
Pricing is a key consideration for many companies, bloggers, and other website owners when comparing CDNs. A CDN can cost anywhere between $150 and $200 a month for a 2,500 GB traffic, which could go as high as $12,000 for 200 TB. It is important to prepare a list of CDNs and compare their pricing plans before deciding which one will give you the best value for your money. Many CDNs charge extra fees for services or features beyond the most basic tech support requests, so make sure that the pricing is upfront and transparent. Some CDNs offer the same or better performance levels at lower prices.
Best Content Delivery Network Provider to Speed Up Your Website
Many websites are slowed down by a variety of factors, including unoptimized images, JavaScript/jQuery plugins, bulky Flash content, excessive HTTP requests, and too many ads. By using a content delivery network, your website will be better able to run at optimum speeds and allow your visitors to access their requested content in a much quicker time.
The best content delivery network doesn't have to be costly. With BelugaCDN, for instance, your website will experience a 20-40% improvement in speed, thanks to the power of a global cloud – at 1/4 the cost of other CDNs such as Google Cloud, Microsoft Azure, Amazon CloudFront, and MaxCDN. For just $20, you will get a monthly bandwidth of 2,500 GB plus real-time web traffic analytics via BelugaCDN Sonar, instant cache purging, built-in protection against DDoS attacks, custom SSL, a dev-friendly control panel via Restful API, and responsive technical support.
In contrast, the same bandwidth costs $150 with MaxCDN, $200 with Google CDN, $213 with Amazon CloudFront, and $218 with Microsoft Azure. If you need more bandwidth, BelugaCDN charges $150 for 25 TB per month, which is still way below than Amazon CloudFront's $2,050, MaxCDN's $1500, Microsoft Azure's $2,120, and Google CDN's $1,625. At this price, BelugaCDN accelerates the delivery of your website's images, videos, and other content to your valued users by leveraging the power of its next-gen IPv4/IPv6 dual-stack protocol.
Related Resource