What is image CDN?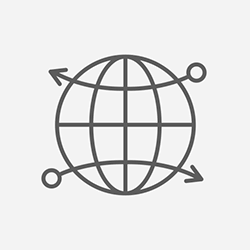 If you're looking to penetrate the digital space with your business, you can bet that when you upload a photo to your website, your users can access it anywhere without problems and delays, right? In a perfect world, that would be the ideal outcome. But the truth is that it doesn't happen all the time; especially when you don't make use of a CDN. If your site is heavy on photos, it's even more important for you to partner with a CDN provider. This is also precisely why the keywords: "how to use CDN for images" has been searched quite a lot of times by site owners now.
How to use CDN for images?
If you're new to the whole CDN technology, a Content Delivery Network is a group of servers that distribute media and content to several parts of the globe. This technology exists to reduce latency (your web page's loading time) and improve the overall digital experience of your site visitors regardless of where they are in the world.
The Importance of Image CDN
CDN is crucial to companies with websites that serve a global audience. Corporations like Netflix, Facebook, Amazon, and CNN all make use of CDNs to make sure their content is delivered to their market segments in a timely and even fashion.
CDNs can also personalize content depending on where their viewers are. Say, your business has special content for those in Australia, you can personalize the media presented to them and make sure only they see it.
Companies that have both mobile apps and engaging websites benefit the most from CDNs as speed is one of the fundamental perks presented to their site users. Should your website hold a lot of premium for Images, all the more reasons do you have to look for a CDN provider that shares your brand vision.
Here are the leading benefits to using a CDN for photo-centric sites
Speed
When you use a CDN, site owners and entrepreneurs can be guaranteed that their clientele physically obtains an image file from their edge server—the server geographically closest to them. This not only eliminates the travel time a request makes, but this also eliminates the number of relays and steps it takes for media and content to load. This, in itself, already improves delivery speed tenfold. This is why CDNs are great for sites that contain engaging images; regardless of the photo sizes of your site, speed doesn't become an issue.
Hosting availability
For plenty of site owners, finding the best web hosting can be challenging. Generally, site owners may find it easier to just choose a web server that's located in one part of the globe. And while that isn't exactly a bad thing, the problem with this solution is that it strongly affects site users who are distant from the origin host. For example, if the host of your site is in London, then site users from, say, Australia or Thailand could experience latency—the time it takes for your site to load.
CDNs take care of this because your content is transmitted immediately, and so your users, regardless of where they're from, don't have issues accessing your site. Not only does this hasten content-loading, but it also assures your target market accurate and updated media to consume. This isn't something single-server models can handle.
Conversion
CDNs don't only ensure fast-loading images, they also mean that photo quality is never compromised. If you're in the e-commerce business, you know for sure how important photos are; note that most customers base their purchases of how something looks like online.
Being able to extend crystal clear images almost immediately impresses your target market making them more likely to purchase products from you or agree to sign up with paid memberships your site offers. At the end of the day, accurate image manipulation largely contributes to speed. To add, a few CDN providers also improve image-resizing. That means your users, whether they're on their phones or laptops, see your site's photos the way they're supposed to be seen.
Use a Content Delivery Network (CDN) today and see immediate results, not just on your website but on your ROI as well. Interested in seeing what BlelugaCDN can do for your company? Get a free trial and find out for yourself!
How Can I Make My Website Faster?
Content Delivery Network Providers
Related Resource