CDN Pros: Leave it to the Professionals Instead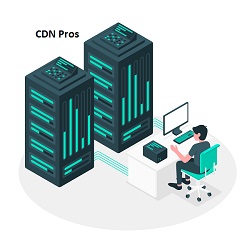 Who does not want to be a household name? Many enterprises are vying to reach globalization, and there are a lot of them who are successful: Netflix, AirBNB, Google, the list goes on. Yes, these companies have reached quite a reputation when it comes to globalization, but believe it or not, they also needed help like you. A way for them to get more customers is through content delivery networks, or CDNs. Companies like the ones mentioned tagged the help of CDN pros to keep their businesses afloat while garnering global status. But then here's a concern: these are outsiders. Are you ready to put in valuable information to these third-party entities, like key company website information, and allow them to use these info willy-nilly? Don't fret; CDN pros will stay true to their word, that they are professionals. Here are a few reasons why you should opt for the service of CDN pros in carrying out CDN services and further CDN hosting capabilities.
Outsourcing is a New Business Trend
Many companies actually outsource their needs as this is a viable means to keep business operations going. Through outsourcing, you only pay for the professional capabilities of a person or group, without having to employ them and go through the hassles of human resources, such as training and monthly salaries. CDN pros can be outsourced to do CDN hosting for you, and you can be sure that their CDN services will be top notch. To be able to cater CDN services, these CDN pros have to have various certifications that make their CDN hosting have recognizable quality, and these CDN pros may also have years and years of experience under their belts. CDN hosting is no walk in the park; CDN services entail a lot of knowledge and skills, from setting up CDN hosting capabilities to making sure that CDN services are always up and running. To be called CDN pros, these entities have to make sure they have the goods to back them up. Trust that when you outsource these CDN pros, you get only the best quality.
Less Effort for You
Sure, there are CDN hosting options you can opt for that do not have to outsource CDN services or get the help of CDN pros. Open-source CDNs allow you to manipulate the programming of certain CDNs so that you get what you exactly need from CDN hosting. The thing is, this will require the same coding and CDN familiarity to CDN pros, and building this knowledge base won't be easy. There are also other DIY CDN options out there, but similar to open-source options, you'll need all the assistance you can get. In the end, you'll have to set up CDN hosting through the help of CDN pros, whether they will set everything up, or you'll ask them to manipulate open-source options.
The good news for you is that there are free CDN hosting options for you, but these options will still entitle you the CDN services and knowledge of CDN pros. You can strike up a contract with CDN pros so that your usage of the free CDNs will not really come as a no-win situation for the CDN service provider. These free CDN service options may come as a trial run, or CDN pros may use you company website to advertise their own. Either way, you get what you need from CDN hosting. What's there to lose?
Connections are Key
Another good way to look at outsourcing CDN pros to do the work for you is the building of professional relationships. It's good to have a contact person for various concerns, and getting CDN pros for your CDN service needs and CDN hosting concerns is a good way to start your company's venture into the benefits of CDN hosting. If you opted for CDN options wherein you have free reign on what can happen because you did not ask for help from any CDN pros, if problems arise, who can you talk to? Wikipedia pages and CDN how-to tutorials tend to be general in content, and may not lean on specific concerns you have the way CDN pros do. Build a good relationship with CDN pros when it comes to your CDN hosting needs. Who knows, you might just get more than just CDN services.
One of them is BelugaCDN
If these reasons do not push you to go get your CDN services from CDN pros, maybe BelugaCDN can help. Contact them right away to start building your familiarity with CDN services. CDN services await you, and you can start here.
Related Resources