Popular CDN Providers Stay on Top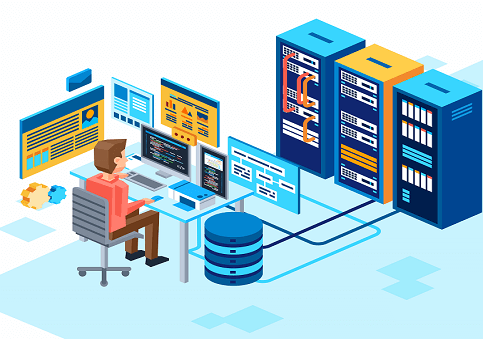 There are 1.7 billion websites on the internet today, and before the year ends, that's bound to reach the 2 billion mark. There's no denying that the world wide web continues to grow despite how already very expansive it is. As a result, brands and companies find themselves trying much harder to enter and retain digital markets. It also goes without saying that Content Delivery Networks (CDNs) have become crucial in today's digital efforts. Without CDNs, the internet wouldn't be the way it is. But what, exactly, makes popular CDN providers stay on top?
For this article, we're examining the qualities of the top CDN providers 2021 has had and how popular CDN providers remain relevant in the face of competition.
What Do the Popular CDN Providers Have in Common?
2021 was an awesome year for technology. From foldable tablets to fast charging, we're only ever moving forward. The top CDN providers 2021 has continued to lead the pack, too. But what was it with these popular CDN providers that made them so well-received and much favored?
Wide reach
One thing many of the top CDN providers 2021 has had was a good number of Points of Presence. The very reason people sign up with popular CDN providers to start with is because of how geographically varied their reach can be. Whether it's Asia, North America or the UK, popular CDN providers have data centers in locations that matter most to businesses.
To better understand this aspect, remember that the primary goal of a CDN is to reduce latency. And latency progresses only when a web host origin server is distant from a user. For instance, if a user from Australia tries to access a website that relies on a web host origin server based in Sweden, you can already bet that it's going to take a while for a user to gain complete access to the site's web pages. But with the help of a CDN, users no longer have to obtain web data from the origin server, but from the server nearest them; also referred to as the Edge server. That said, if a provider has a PoP in Australia—for this example at least—the user can now access the site through their Edge and no longer have to receive the web content from Sweden.
This is why knowing where your website has to perform best is integral in choosing your CDN provider. Almost every provider differs in strength when it comes to locations, so find out which countries and continents you'd like your site to excel most in. Find out BelugaCDN's locations here.
Great customer service
While it's arguable that the top CDN providers 2021 has had all had great customer service, this component is perhaps one of the first things you'll need to consider when looking at popular CDN providers. Always remember that when you sign up with a provider, they'll now be in charge of helping you distribute your web content to your audience. Should anything go wrong, you'll need to be able to turn to a trusted team of experts for accountability.
Interestingly, one of our strongest features here in BelugaCDN is a responsive client services team. When you sign up with us, you're never left to your own devices. Check out what our clients are saying about us here. Popular CDN providers make it a point to put a premium in being accessible and responsive to the companies and customers they serve. As with any service industry, this element can make or break a brand and can catapult a company into mainstream popularity.
Transparent pricing
On this list, this is perhaps the least visible among many popular CDN providers. But that doesn't mean it's not important. Several providers, such as we, have prioritized transparent pricing to attract and keep potential and existing customers. While tons of popular CDN providers extend only custom contracts, singing up with providers that offer pay-per-usage billing has deemed more financially beneficial to startups and SMEs simply because this pricing is more predictable with this scheme.
The more bandwidth you consume, the lesser the amount you need to pay, too.
Choosing Among the Most Popular CDN Providers
It is important to use the most efficient and fastest CDN to provide your customers with a full and pleasant web experience.
With the rise of numerous popular CDN providers (offering paid and free CDN plans), more site hosts are providing CDNs built-in with their hosting plans to stay competitive.
On the other hand, you may also buy CDN services separately if your selected hosting program does not come along with it.
There are many popular CDN providers available in the market today, however, when choosing a provider, it's ideal to get the fastest CDN to avoid longer loading times for your website.
With dozens of popular CDN providers, we have gathered some of the best paid and Free CDN services for you to consider.
Let's check them out:
Top 5 Popular CDN Providers Available in the Market Today
#1 BelugaCDN
For BelugaCDN, a free offering (or a free CDN to be exact) is not synonymous with a good-for-nothing and almost useless service.
For them, it's another outlet to provide the market with much-needed solutions.
Through its 30-day free CDN plans, it lets you test the capabilities of one of the fastest CDN providers in the market. This offer is a norm most especially with the most popular CDN providers today.
It's free CDN plans offers 3 options which give generous capacities for your website that will enable it to exceed its current performance.
BelugaCDN's 'Pro' plan offers 2,500 GB of traffic, while its 'Business' plan gives users with 25,000 GB of traffic. For its 'Enterprise' plan, it equips your website with a generous 200,000 GB of traffic.
Aside from the 'free stuff', this CDN provider also has a lot more to offer like large file delivery, live video and video on demand and token authentication.
Also, it can provide HTTPS & Content Protection, geo-blocking, hotlink protection, and IP white/blacklisting.
By being one of the cheapest and fastest CDN providers today, it all makes sense to consider and buy CDN from BelugaCDN.
#2 Cloudflare
Cloudflare is one of the hugely popular CDN providers in the market today with beginner-friendly features and functionality that are of professional level.
Cloudflare offers smart image optimization that can also speed up your load time by reducing image file sizes by up to 35 percent.
Additionally, its free CDN plan comes with security features like filtering block bots, limits spam content, keeps the site safe from hackers and mitigates DDoS attacks.
With these features, it's no wonder why Cloudflare is still considered one of the most popular CDN providers for website owners today.
#3 StackPath
Here's a quick question, why do a lot of website owners decide to buy CDN from StackPath?
Simple, because it has one of the fastest CDN in the market today. Also, it has a user-friendly CDN, and has an efficient technical support available if one needs an assistance.
Primarily, StackPath is one of the most popular CDN providers when it comes to security.
It offers a free shared SSL, but you may choose to use your own SSL certificate. There is also an anti-DDoS security feature and a powerful firewall for web apps.
If you're looking for a CDN that provides a reliable security and offers one of the fastest CDN services in the market, then deciding to buy CDN from StackPath is a good choice for your business.
They offer a free CDN trial for your first month and charge $20 (£15.5) for up to 1TB of bandwidth in the succeeding months.
Today, despite of the strong competition, StackPath still remains as one of the most popular CDN providers for website owners.
#4 Amazon CloudFront
Amazon CloudFront is an AWS (Amazon Web Services) CDN feature so it's definitely part of a heavyweight activity and clearly one of the popular CDN providers you can find today.
The strength of their service is in-depth tap analytics. If you're looking for a CDN that can crunch complex analytics, then you should buy CDN from Amazon CloudFront.
The numbers they generate can show you details of the device type and OS of your visitors.
Also, it is considered as one of the fastest CDN in the market today, and given its name, it should be.
There's also the handy alerts, which means that you can be warned when data transfer goes beyond a certain level.
Aside from its name, one of the main reasons why Amazon CloudFront remains one of the most popular CDN providers today is simply because of its powerful features.
This edge is still the main reason why a lot of website owners decides to buy CDN from them.
However, this is a service you must spend on because tech support isn't free. Their prices vary by region; however, the good news is that they offer a free CDN plan which gives you 50 GB of data per month for a year.
But it won't take a year before you decide to migrate from its free CDN, because you'll surely decide to buy CDN from them sooner than later.
#5 Leaseweb
A powerful and one of the most popular CDN providers in the market today, Leaseweb is an enterprise-level service, which is also ideal for regular customers, (and does not come cheap).
If you choose to buy CDN services that are jam-packed with configurations, and considered one of fastest CDN in the market, this may be your best bet.
No wonder it is one of the most popular CDN providers for many website owners today.
Pricing begins at $113 a month (£88, €99) for an entry-level contract with a 2 TB data allowance. (Note: it's prices may change so you need to have a quick look at their website )
Conclusion:
What makes a CDN service great (aside from its free CDN) is its holistic approach to your website. There's no point in having the fastest CDN when it neglects the major aspects of your websites.
Luckily, BelugaCDN not only focuses on your website's speed or with its free CDN offerings but also on your site's security as well.
With tools to speed up and secure a website all at the same time, it's no wonder why it made its way as one of the most popular CDN providers in the market today
Sign up with BelugaCDN for a free trial today!