Why Cheap CDNs or Free CDNs Better than Paid Ones?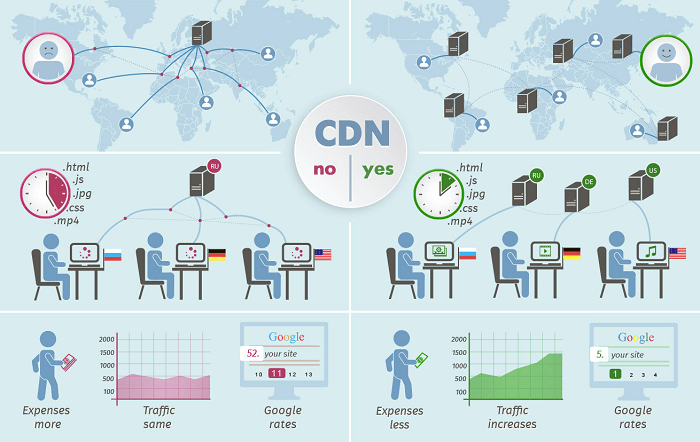 There is a plethora of free resources you can use to help your business grow, and these resources come in a multitude of choices, from SEO optimization tools to means to create content like videos and vivid pictures. These tools help a business reach further heights in marketing, and since these are for free, there is absolutely nothing to lose. Yes, there are some services that might ask for a small fee, but these cheap services still help your business save on valuable monetary resources. Content delivery networks, surprisingly, also come in cheap or free options. Cheap CDNs or free CDNs can actually help you the way paid ones can. CDN providers can also aid you in using a cheap CDN or a free CDN, but of course with limited assistance by CDN providers compared to if you bought higher-priced CDNs. But let's argue on this: cheap CDNs or free CDNs, if used and discerned well, can actually help you the way regular-paid ones would. Let's see:
Downsides?
It should not come as a surprise to you that opting for a cheap CDN or a free CDN will not give you the full experience of a regular CDN. Or will it? CDN providers actually provide cheap CDN or free CDN options, believe it or not. If you look at the package offerings of certain companies, you see that there are cheap CDNs or free CDNs that you can use. Yes, that means not having to pay CDN providers anything. They might sign an ex-deal with you, like they can use your company website for advertising, but still, cheap CDNs and free CDNs are a thing. But yes, they have some possible downsides:
Limited Functionality?
Of course, regular paid CDNs of CDN providers will have better functionality compared to cheap CDNs or free CDNs. CDN providers might limit the security capabilities of the cheap CDN or free CDN you opted for, or they might not cache as fast as the other offerings of the CDN provider. However, one thing you can be sure of: CDN providers will give you the basics of CDNs. That means cheap CDNs or free CDNs have what it takes for you to at least get to know and experience CDNs at the very core. Yes there will be limited functionality, but think of it as a way CDN providers opt for so that you'll eventually get the paid-for options. But for now, bask in the basics through cheap CDNs or free CDNs.
Less Assistance from CDN Providers?
Another possibility you could experience is less assistance from CDN providers. As the old adage goes, "You get what you pay for." Sadly, this might apply when you avail of a cheap CDN or a free CDN. But a good way to look at this is that it will inculcate in you and your company a culture of independence when using your cheap CDN or free CDN. The lack of assistance from CDN providers can be filled in by putting your in-house IT team to work, or doing the research on your own. But then again, it will be impossible that CDN providers won't help you at all; there should be some assistance from them, or they can be held liable in case major mishaps happen due to the cheap CDN or free CDN's malfunction. They have to be careful, as well.
The Upsides Though!
The best things in life are free… or cheap? This could be your mantra if you are able to use your cheap CDN or free CDN to the fullest. First, cheap CDNs or free CDNs are your gateways to the wonders of a content delivery network. Strike an agreement with your CDN providers to give you a trial period so that you can track if CDNs really are your company's thing. If it turns out that they are, you can now upgrade from your cheap CDN or free CDN to paid options. However, what if you realize that the cheap CDN or free CDN is what you need, and nothing else? There are cheap CDNs and free CDNs that actually will do for certain companies. CDN providers do provide cheap CDNs or free CDNs, and it might turn out that the generosity of CDN providers could be what your enterprise needs, at the bare minimum. That means forever holding on to cheap CDNs or free CDNs, and looking forward to more savings yet CDN functionality. You'll thank your CDN providers for that.
Conclusion
Talk to your CDN providers if they have options for cheap CDNs or free CDNs. Don't be afraid if your company is labeled by CDN providers as cheapskates; they too run a business, and CDN providers should understand how helpful free resources are. In the end, you might see that cheap CDNs or free CDNs are better than paid ones. Who knows, right? Just give it a shot.