The Best CDN for Small and Medium-Sized Businesses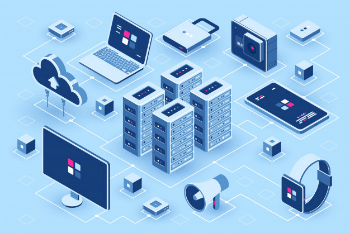 The advantage of enterprises is that they have the money and the resources to build infrastructures around the globe to support their origin server. They are able to deliver their web content globally through their own set of globally located servers.
Smaller companies do not have the luxury of doing the same thing. Creating an IT infrastructure of their own is already a big cost in itself, creating multiple data centers just to spread web content globally is not a practical way to spend money and resources.
Fortunately, small and medium-sized businesses have another option. Instead of placing their own servers globally, they can instead subscribe to a company whose primary purpose is to help websites achieve a global reach without sacrificing web experience.
That is where the best CDN or content delivery network solution comes in.
What is Content Delivery Network
Content delivery network or CDN solutions refer to services provided by specialized companies that allows for the easy delivery of content no matter the distance from the origin server.
It solves the problem of latency or the time it takes for a web request from a website visitor for access to certain web pages to the time the web content requested is delivered and loads into the computer or device of the web visitor.
It does this through a network of strategically installed servers around the world. These servers respond to requests that are within its proximity so that the request won't have to travel to the host origin server.
As a result, requests are responded to much quicker and the origin server is not swamped with traffic.
How Does Content Delivery Network Work?
As said above, CDN solution providers have strategically located servers around the globe. These servers are usually referred to as Point of Presence (PoP) servers.
These PoP servers store a cached copy of your website's web content including all its components from HTML and CSS code to images and videos.
Once a request for a web page is made, the request is sent to the PoP server that is nearest its location. That specific PoP server will then respond to the request by delivering the cached copy of the web content requested.
What are the Benefits of CDN?
While there are a lot of CDN providers out there, only a handful really provides the right combination of performance, reliability, security, and cost-effective pricing.
As one of the best CDN providers in the industry, BelugaCDN prides itself on being able to provide these advantages to their customers.
High Performance Website
BelugaCDN can provide your company's website with a CDN platfrom that can significantly increase your load speed. Our enterprise-level infrastructure can support large amounts of traffic and can deliver ultra-fast loading speed for your web visitors even if your website has large amount of downloadable content. Whether you have an e-commerce store or a company website full of videos, BelugaCDN has the reliable platform to support it.
Secure Web Traffic
One of the most common form of cyberattack is DDoS attacks. It does not even need any hacking know-how. Any malicious party can simply get bot services for a few dollars then overwhelm your website with unwanted traffic. Fortunately, BelugaCDN not only employs TLS certificates to prevent DDoS attacks but they are also one of only few CDN that recognizes the 5 types of TLS certificates. In addition, BelugaCDN has a myriad of high-level tools that helps secure and protect your web content.
Easy to Use Account
BelugaCDN also provides users with a user interface that is very easy to set up and use. You can customize and configure how your content is going to be delivered and even set instant purging of specific content. In addition, users also have access to BelugaCDN SONAR™, which gives you real-time traffic numbers for more insight into your website's performance.
Dev Friendly Services
Aside from an intuitive user interface, BelugaCDN aims to make your life easier. Get more advanced settings, fine control, and automation via our restful APIs.
Competitive plans and pricing
What separates BelugaCDN from the other so-called Best CDN services out there is its pricing. A lot of top CDN providers cost at least $150 per month. BelugaCDN can start you off with a free trial and as low as $20 thereafter.
This low pricing gives you quality CDN services without having to break the bank.
Related Resources