CDN Network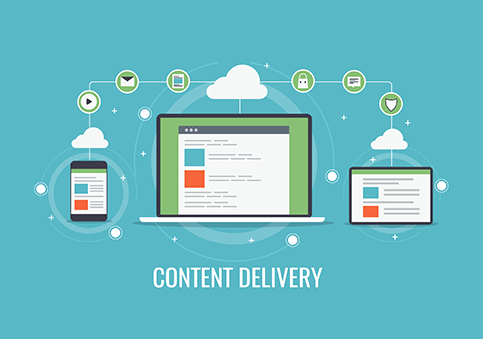 The digital revolution has made fast Internet essential not only today but, in the years, to come. As more and more people rely on their smartphones, tablets, and laptops to search for information on the web, shop for products and services on e-stores, play games, upload photos on social media, and download or purchase content such as music and movies, website speed has emerged as a crucial factor in getting page views. Digitally empowered consumers will leave your website – and are likely to never return – if it has slow-loading pages or buffering video streams.
Even if you have the best content or your website has the best-looking design, it will not draw much traffic if it is frustratingly slow. Your SEO ranking on Google will also be affected. A content delivery network (CDN) can optimize website performance in many ways, thus enhancing user experience that translates to lower bounce rates and higher conversions.
There are many CDN network providers offering either free or paid plans. Incapsula, CloudFlare, Amazon CloudFront, Microsoft Azure CDN, Google Cloud CDN, Sucuri, Photon by Jetpack, CDN77, KeyCDN, jsDelivr, Coral CDN, Rackspace, SwarmCDN, and Cloudinary are free for WordPress. Some CDNs can be availed via free trials, including KeyCDN, MetaCDN, CDN77, MaxCDN (now StackPath), and BelugaCDN (https://www.belugacdn.com). BelugaCDN, Amazon CloudFront, MaxCDN, Incapsula, Microsoft Azure CDN, RackSpace, and Google Cloud CDN also offer paid or pro plans.
How to Choose the Best CDN
If you have a blog that attracts between 50,000 and 100,000 unique visitors a month, a free CDN with basic features is probably enough. But if you want to upgrade to a paid plan that gives you more bandwidth and advanced features, keep in mind the following factors to help you find the CDN that is right for you.
Performance
The speed and reliability of a Content Delivery Network can be measured using three metrics: response time, latency, and throughput. Response time refers to how long it takes for a host server to process requested content such as text, graphics, images, and downloadable objects like documents, media files, and software applications. Throughput is the amount of content that can be delivered over a given period of time, while latency is the speed at which the content is delivered from the user to the server and back. Check whether the CDN Network has the capability to excel in all three metrics. Consider quality features such as effective image optimizations, segmented downloading for optimizing content delivery, Secure Sockets Layer (SSL) certificates, support for video caching, or a high-performance IPv4/IPv6 dual-stack network.
Security
A CDN network should improve your website speed while also keeping it safe and uncompromised from hackers and cybercriminals. In particular, it should have the capability to protect your data by mitigating DDoS attacks and automatically blocking suspicious web traffic, limiting comment spam, and fighting malware/phishing. A strong security feature employed by many content delivery networks is SSL certificates, which encrypt the connection between the website and its visitors. You should also look for a CDN that uses Transport Layer Security (TLS) certificates to establish secure HTTP connections for sending your content to the end-user securely over the web, or a CDN that offers token-based authentication and other high-end authentication options.
Customer service/support
It is important for a CDN service provider to have customer support reps that are available 24/7 to provide technical assistance upon request, either by phone or email. The technical staff's ticket response time should be no more than a few minutes. Furthermore, they must be proactive so that they can address any issue before it becomes a major problem.
Pricing
Pricing can be a deciding factor for some people looking for a CDN. Make a list of content delivery network companies and compare their plans, making sure to understand each one because there are CDN pricing schemes that are not straightforward. A CDN plan can range from $150 to $200 a month for 2,500 GB of traffic and up to $12,000 for 200 TB. A CDN may be expensive but does not necessarily perform better than a competitor with lower rates, or cheaper but has below-average response times.
Go for a CDN with upfront and transparent pricing. Most importantly, determine your data transfer requirements each month and take into account the additional charges that a CDN might charge you. Some CDNs, for example, charge extra for tech support or requests, or have variable rates for data transfers depending on location.
Bottom line
Nobody likes a slow-loading website, plain and simple. A CDN network will help you make the most of your online presence by accelerating your website and giving your visitors a seamless surfing experience. There is no perfect CDN, but you should consider one that effectively delivers your content globally without the hefty price tag. With BelugaCDN (https://www.belugacdn.com), every requested content will be delivered up to 40% faster to your users, on any device. Key to BelugaCDN's performance is its next-gen IPv4/IPv6 dual-stack network, which has been proven effective in accelerating websites, download speeds, blogs, video streams, games, images, etc.
The company also provides real-time, up-to-the-second traffic analytics, instant cache purging, secure token, and other security features to protect your website against DDoS attacks, Restful API and custom SSL, and reliable technical support. All these for only $20 a month (based on 2,500 GB traffic) – 1/4 the cost of rival CDNs such as MaxCDN, Amazon CloudFront, Microsoft Azure, and Google Cloud.
Related Resource