Free CDN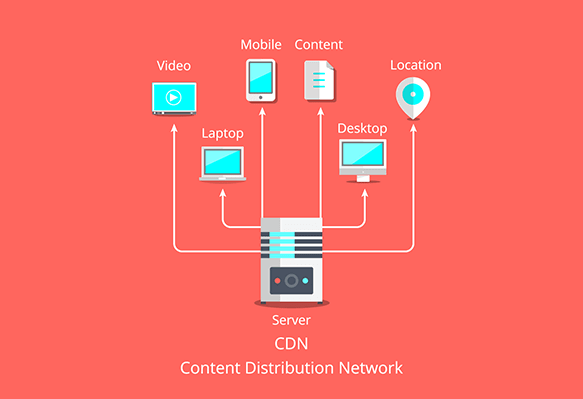 It is always a good idea to have your site subscribed to Free CDN. The Content Delivery Network delivers the content to the specific user without making any delay regardless of the distance between the user and the server.
To make transmission hassle-free, the group of interconnected servers is used at different geographical locations.
Plus, the implementation of SSD instead of HDD makes the storage more efficient and the data delivery even faster.
Now, when it comes to CDN, we often imagine paying a certain fee and purchasing the plan. However, as technology is more advanced than ever, it is possible to make use of free CDN.
The use of Content Delivery Networks (CDN) is drastically rising among millions of websites. Even the biggest names on the internet, like Netflix, Amazon, and Facebook, use CDNs on their websites.
Why?
Because CDNs help keep your site's visitors happy. Statistics published on HubSpot reveals that any website that takes longer than 3 seconds to load, risks losing nearly half of all its traffic. It gets worse for business websites as nearly 79% of unsatisfied customers may not buy from you again.
So, you definitely need a CDN for your site.
What is Free CDN?
A CDN refers to a number of servers distributed across different locations to improve the delivery speed for web pages, images, and videos (Internet content), to consumers in different geographical locations.
This server network is known as the 'point of presence' or 'POP.' The closest server to the end-user is referred to as the 'edge server.' So, when a user request content from a website with CDN, they'll be connected to the edge server, which improves their speed and experience.
How Free Content Delivery Network (CDN) works?
Take two users, for instance, one in Tokyo, and the Other in New York. If they both request data from a website server based in Silicon Valley, the New York user will receive the web page much faster because of his proximity. The Tokyo user will have to wait for a much longer time and might decide to leave the page before it loads.
However, with a CDN, the Tokyo user will be connected to the closest edge server to his location. This way, he'll receive his response almost as fast as the New York user.
What the CDN does is caches (stores) a copy of the internet content that users request to the different edge servers. This way, every time a user in a far-off location requests the content, they can access it quickly from the edge servers.
Additionally, CDN technology does more than just help the speeds of a site. A good CDN can also help reduce your bandwidth costs, secure your site from DDOS attacks and other malicious attempts, and increase your content's availability.
This is why CDNS are very popular among e-commerce, healthcare, governments, online gaming, and the advertising industries.
There are various CDN providers out there that allow relishing on the functioning of CDN free of cost. These CDN networks work the same for transmitting the data packets from servers to the user's computer.
These servers come greatly helpful for individuals who want to experience the power of content delivery networks. This way, you don't' pay a penny and make use of CDN's glory.
After activating the CDN, the website does not seem like loading forever. Hence, a user has quick access to his request, and this overall reduces the bounce rate.
Now, as you can understand, a reduced bounce rate means an increased SEO score, and hence, CDN is a must-have facility for every online service provider.
Free CDNs for WordPress that have forever-free plans in 2021
Being quite a useful technology for most websites, many CDN providers, surprisingly, offer this service for free. Here is a list of some of the best CDN providers you can try who offer their CDN services free forever.
BelugaCDN
CloudFlare
Incapsula
Swarmify
Jetpack's Photon
BelugaCDN

Topping our list is one of the best CDN providers in the Market, BelugaCDN. This CDN leverages the latest technology to provide incredibly fast transmission services for website content delivery. Users of this CDN enjoy not only good speeds but also built-in DDOS protection and numerous other features to secure their content.

The CDN comes with a simple and straightforward user interface, making it easy to incorporate on any WordPress site.It also boasts of a super-fast customer support team.

BelugaCDN has dramatically gained popularity over the years because it offers high-quality CDN services at the cheapest prices.

CloudFlare

CloudFlare is arguably the biggest – and most popular – CDN provider in the world. It provides the largest CDN network for small websites with servers in more than 200 cities in 90+ countries.

Their CDN is relatively easy to integrate into any WordPress site, and it automatically caches all your static content with the free package. Using it, data is routed via its robust network consisting of 115 data centers.

Besides improving your site's loading speed, CloudFlare free CDN also comes with a security layer against DDOS attacks.

Incapsula

Incapsula CDN is the next popular free WordPress plugin. This CDN boasts of a vast server network with several data centers around the world. The plugin is easy to set up into your WordPress site, and it's compatible with it's caching and other plugins.

In addition to their CDN service, their free package also comes with essential security features like spam and login protection, and DDOS attack protection.

This is a good solution for small websites and small-time bloggers. With big websites, Incapsula premium CDN package is much better.

Swarmify

Commonly referred to as SwarmCDN, Swarmify is another great P2P CDN for websites. The CDN takes very little time to install and setup, and it works well with other WordPress plugins. Swarmify has hundreds of servers in over 196 countries and has over 45 data centers around the world.

Their free Content Delivery Network (CDN) package offers 250GB of transfers and 10GB image-only bandwidth for free. This makes them one of the best free CDNs when improving sites' performance.

Jetpack's Photon

If you've used the WordPress Jetpack plugin, you'll have no problem using their free CDN photon. As part of the Jetpack plugin, Photon is processed in all your data packets, including images, through WordPress' global service. This drastically reduces the loading time for any website.

The activation process for this CDN is also easy. All you need to do is find the Activate button on the Jetpack dashboard, and you'll be set to use it.
How long can you survive with Free CDN?
The importance of a CDN can never be overstated for any business or personal website. However, you need to know which CDN is for you. The truth is, some websites don't need a CDN, and if they do, a free CDN can do the trick.
Nonetheless, as your business continues to scale up, you'll need some features that a free CDN doesn't offer. Here's what you need to know to determine if you can survive with a CDN Service for Free.
For one, free CDNs are only fit for small personal blogs and business websites. This refers to sites that don't receive a lot of traffic. It's also good if your website audience is within your geographical location. If they are not, you might need to upgrade.
Secondly, if your website's visibility is exponentially growing, a Best free Content Delivery Network (CDN) may not do a lot to help in managing the server traffic. Your visitors may often receive the 503 timeout error, and this will increase their bounce rate – which isn't good for SEO.
Thirdly, if the volumes of content (large files, images, static content) increases in your site, you'll need a premium CDN plan to boost your site's speed.
Lastly, premium CDNs offer more security and availability functionalities to your website, meaning that your site is secure. Some CDNs even add that green padlock on your browser, which proves your site's credibility.
However, the free CDN plans are an indication of the quality of services of the provider. So, before going premium, you may want to test out different providers with the free package.
How Beluga Offers Free CDN Providers
BelugaCDN provides the ultimate solution to all your CDN needs. Having been in the industry for more than a decade, Beluga understands what every website needs. It utilizes the best technology in the market to ensure that you get the absolute best with every package.
With the costs in mind, Beluga has factored in every feature you'll need to improve your website's loading speed and overall performance.
User-friendly Interface
Right from the installation, Beluga has made the CDN setup process faster and much easier. The platform comes with an intuitive UI that is easy to navigate and manage your settings. There's also a built-in setup guide, with additional resource documentation, to ensure that you don't get confused.
Fast speeds
Using the dual-stack IPV6 network, BelugaCDN boosts your site's speed by up to 40%, meaning faster loading speeds and better customer experience. Additionally, with the 28 POPs and 9 data centers spread globally, BelugaCDN has your website covered.
Their technical support response speed is also incredibly fast, ensuring that your problems are addressed immediately they occur.
Impressive security features
The CDN also comes with impressive security features to protect your content. It offers an in-built DDOS protection feature and constant website protection to secure your bandwidth. This is the reason why Beluga is the choice for most websites.
The CDN is also compatible with all web hosts, and so, you don't have to worry about getting a new host. You can also enjoy a custom SSL for your website if you wish.
Real-time traffic statistics
Beluga understands the value of statistics on any website and business. It's the key to improving your SEO, your marketing strategy, and making sales. BelugaCDN provides you with up-to-the-second analytic insights to help you understand what's happening to your site.
With the CDN, you can be sure that your overall bounce rate statistics will drastically reduce, with more visitors staying longer on your site.
Instant purging feature
Removing your old, outdated, and stale content is never easier than with the BelugaCDN. In mere milliseconds, you'll have all the bad content deleted and invalidated from all the edge servers around the world, ensuring you only have fresh, up-to-date content. This is a key component in improving your SEO and maintaining your visitors.
Best prices in the market
BelugaCDN comes with a 30-day free trial package, allowing you to test their features and get the hang of using them. After that, they offer the cheapest CDN pricing packages you'll ever find, for their quality of service. The CDN also saves you the hustles of long-term contracts with software, and so, you can easily make your easy monthly payments. You can also cancel your contract at any time!
Final thoughts
CDNs are a fantastic tool for any website to have. They play a crucial role in helping a website improve its performance in the market and convert visitors to customers. However, you need to be careful with the CDN provider you choose.
Go for a provider with proven experience in the industry. Depending on your website's size and needs, look for good speeds, security, and price.
But don't be too stingy with quality; most times, every good software comes at a price.
Related Resources