Content Delivery Networks
Content Delivery Networks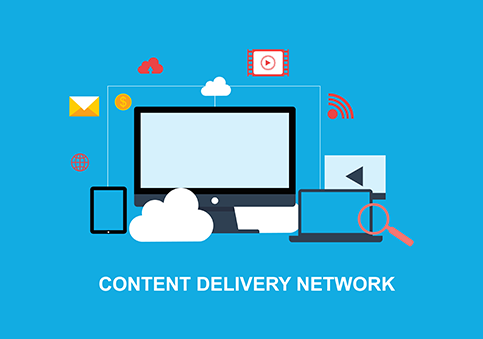 As the world continues to transition to a digital economy, more and more businesses are leveraging the Internet, and especially content marketing, to reach out to as many consumers as possible. In content marketing. your website plays a crucial role. It offers a great opportunity to sell your goods and services not only nationwide but also globally. Just make sure that your e-commerce site is fast. Ideally, a website should load in 4 seconds or less, but today's digitally empowered consumers expect loading times of 2 seconds at the most.
Studies show that almost 50% of web users expect a web page to load in no more than 2 seconds, and 40% will abandon a site entirely if its loading time exceeds 3 seconds. In addition, 79% of online shoppers say they will not revisit a slow-loading website. From a sales perspective, every second counts as far as page load time is concerned. If you want to speed up your website's loading times, a content delivery network (CDN) service provider can help.
By placing your files in different geographical locations around the world, and delivering the requested content to the user from the nearest edge server, a CDN reduces latency and thus your site's load times. Faster load times mean better browsing experience, which will visitors stay longer on your site. High retention rates can boost your revenue.
Content delivery network companies such as Akamai, Amazon CloudFront, MaxCDN, Google CDN, and BelugaCDN (https://www.belugacdn.com) use web caching, server-load balancing, and request routing to optimize website performance. But how will you know if a CDN is right for you?
How to Choose the Right CDN?
Whether your website is intended for the mobile web or for streaming videos, the following factors should be taken into consideration in your search for a content delivery network service provider:
Performance
A CDN's primary goal is to increase your website's loading times, so it is important to find out whether it has the capability to do so. Does the CDN have the technology to deliver your content as quickly as possible? How fast will the CDN edge servers process a user's requested files? In this regard, two primary considerations are latency, expressed in milliseconds, and throughput, expressed in kilobits per second. Other features that you may take into account are whether the CDN allows real-time analysis of traffic statistics, instant purging of content, or uploading of files via FTP, and whether it has an intuitive user interface.
Reliability
While a glitch-free website is statistically improbable, a CDN should be able keep your website running at peak performance even in the face of sudden traffic spikes. It is essential for CDN service providers to manage your site from a "no single point of failure" perspective, which can be achieved by auto-routing traffic around downed network servers. They may also integrate additional software and hardware redundancy through arrangements with multiple carriers that allow them to utilize dedicated out-of-band channels for interacting with servers when a disaster or an emergency situation arises.
Responsiveness
To ensure that customers are receiving high-quality service to customers a CDN should be responsive. Responsiveness means the amount of time it takes for network-wide configuration changes, such as blacklisting an IP address or purging a specific media file from cache, to take effect. Simply put, your content delivery network company must have the ability to implement a quick configuration propagation strategy.
Security
Aside from optimizing load times, a CDN should be able to strengthen your website's security defenses and protect your content against DdoS or other kinds of cyberattacks. Find out whether a CDN service provider has the necessary protocol to provide end-to-end security to your blog, software, videos, images, and e-store.
Service/support
Content delivery network companies must provide technical/customer support 24/7, all year round, via phone and email. Moreover, their technical support staff must be friendly and knowledgeable and most importantly, can respond to issues and resolve them in a timely manner.
Costs
Traditional CDN companies charge a hefty price for their services. For a monthly bandwidth of 500 GB, for example, Amazon CloudFront normally costs $43 while Google Cloud costs about $40. If you're a blogger, this could rise to as much as $200 a month. It is advisable to compare plans and negotiate the best deal based on your needs. You may also avail of free CDN plans or trial periods offered by CDN service providers.
Final Thoughts
A slow website can frustrate prospective customers and drive them away, which is not good for your business. Your web pages take forever to load most probably due to JavaScript issues, unoptimized images, excessive flash content, too many HTTP requests, countless ads, or bad hosting. No matter the reason, a content delivery network will help improve your site's speed and hence your bottom line.
BelugaCDN (https://www.belugacdn.com) is one such CDN. It has all the tools to accelerate your website while protecting it against cyberthreats – for 1/4 the cost of other CDNs. For site traffic of 2,500 GB per month, BelugaCDN charges $20 vs. $150 from MaxCDN, $200 from Google, $213 from Amazon CloudFront, and $218 from Microsoft Azure. At this affordable price, BelugaCDN will deliver your content 20-40% faster by leveraging the power of an IPv4/IPv6 dual-stack network plus other benefits such as real-time analytics, API, unlimited cache purging, secure token, custom SSL, and reliable technical support.
Related Resource