What's A CDN Video Server?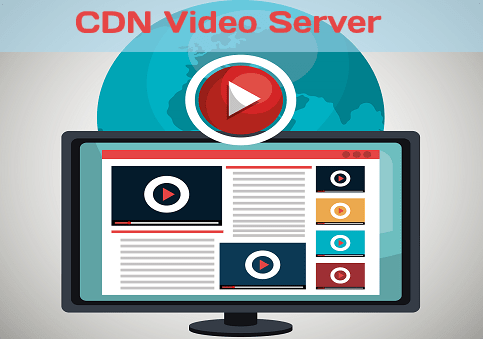 We see motion graphics everywhere today. From our phone screens and laptops to bright, large billboards, videos are everywhere. Society has been so accustomed to visual storytelling that videos have become a prized marketing ploy both creatives and capitalists use to introduce brands and ideas. And because modern people have modern demands, the need to resort to a CDN video server has never been more evident. A study even says that over 300 hours' worth of streaming is uploaded to YouTube every 60 seconds! Given how fast things are going, there are no signs of those figures slowing down any time soon.
Anyone whose smartphone data isn't large enough to binge videos on end knows that video files are heavy. As a matter of fact, close to 80% of web traffic this year is forecasted to be from video-streaming alone! That's why for this article, we're discussing how a CDN video server is crucial in today's context and why cheap video CDN could be your best solution.
How Does A CDN Video Server Help?
Fairly so, a video CDN server is like any other CDN server save the fact that they're designed to primarily augment videos. Essentially, a video CDN server functions like regular CDN networks—they're all built to distribute web content to users around the globe.
The following advantages are what you'll get when you sign up with a CDN provider:
Expanded reach
Because CDN providers make use of globally "scattered" servers, your web content is easily relayed to continents and regions you would otherwise have difficulty reaching solely with one web host origin; especially when the bulk of your web data is comprised of videos.
Enhanced video security
Given the advent of video streaming, piracy has also grown to be more feasible. A video CDN server is more likely to prevent that from happening. When you sign up with a provider, cheap video CDN , or otherwise, a myriad of digital tools will be utilized to further protect your web content.
Consistent availability
One of the biggest advantages of having a CDN provider back you up is their capacity to make sure your content is cached in their servers. So even when the host origin is down for whatever reason, your users can very much still stream your videos and consume other content through their Edge servers, the server that's nearest them.
Fortunately, video CDN pricing has also turned out to be as dynamic as the entire CDN industry. Granted that there are numerous providers in the market today, you're bound to find a video CDN provider that doesn't just meet your needs but also complements your budget.
What CDN Video Server Is Best for Your Website?
The demand for video hosting and streaming capabilities is increasing by leaps and bounds every day. With this, the demand for a CDN video server can't help but follow the trend.
We're pretty sure that you're here to find out which service is the best CDN that can boost your website's video streaming and hosting capabilities. Without a doubt, the decision to buy CDN for your site is a bit tricky these days.
But even with this little dilemma, CDN services are truly amazing.
With servers that are strategically placed all over the world, a CDN video server can deliver your high-quality video content to your audience wherever they are in the world.
This feat is possible through a CDN provider's multiple servers that act as multiple streams for your content to further boost the speed of your contents' delivery.
With this kind of efficiency, a CDN video server can surely improve both the quality of your website's service and its reputation.
But with all the CDN providers claiming to be the best CDN in the market, the question is, which one of them is truly the best CDN for your website?
To be more specific, which of these providers has the best CDN video server in the market?
Let's find out.
Top 4 Video CDN Providers to Accelerate the Website Performance in 2020
#1 BelugaCDN
BelugaCDN has one of the most eye-catching prices in the CDN arena today, not because of its high price-tag, but because of its extreme affordability.
With this, it makes it one of the best CDN services in the market today and one of the reasons why you should buy CDN from this provider.
BelugaCDN's CDN video server can provide you with HTTP video streams, pseudo-streaming (progressive streaming), and byte-range support.
These are one of the signs of a CDN server for Video with a good and reliable performance.
With 28 global PoPs and 9 super PoPs that are located all over the world, you can expect a seamless service that you can rely on at any time. It's an asset that makes Beluga CDN one of the best CDN services in the world.
Also, these strong assets are what make BelugaCDN's CDN video server one of the most competitive machines in the CDN arena.
Before you decide to buy CDN from this provider, you may try it's free CDN plans first. Their plans are divided into three offerings. Its 'Pro Plan' offers 2,500 GB of traffic while its 'Business Plan' provides a 25,000 GB of traffic.
Lastly, its 'Enterprise' plan equips your website with 200,000 GB of traffic.
Even Beluga CDN's free CDN offering pushes it as one of the best CDN services because of its generous offerings.
BelugaCDN allows you to use their free CDN plan for up to 30 days.
You may also use BelugaCDN's plugin called Graffana App to monitor your usage metrics.
Let's have a look at the other features that BelugaCDN has to offer:
Full dual-stack network (IPv4 + IPv6 everywhere)
Free SSL/TLS on customer domain
Real-time log streaming
Instant purging
Token authentication
Also, BelugaCDN is one of the few CDN service providers that provide holistic support to all these 5 SSL extensions
Perfect forward secrecy
OCSP stapling
Dynamic record sizing
HTTP/2
ALPN
With all these things, it makes it one of the best CDN services you can find in the market today.
Also, it makes sense to buy CDN from this provider to take advantage of all its advanced features - at a very low price.
#2 Akamai
Akamai serves 30% of the world's total internet traffic and only proves that is one of the best CDN in the market you can rely on.
An advanced CDN video server is also needed to cater to this large chunk of a task.
And since Akamai is one of the best CDN providers in the market, it is no coincidence that it has an advanced CDN video server, too.
Akamai also provides live-stream and on-demand video-hosting that will enable you to start a video-streaming service for your target audience.
With its advanced CDN server for video, Akamai deserves recognition as one of the best CDN services in the market.
Included in its arsenal of solid features are video security, privacy settings, analytics, and HTML 5 video delivery.
You should definitely buy CDN from this provider if you are looking for these solid features.
But of course, as one of the best CDN services in the competition, Akamai would not be satisfied with these things mentioned above.
Aside from its robust CDN server for Live Video, it can also seamlessly execute these services:
Web Security Features
Reliable Customer Support
Scaled Networks On-Demand
Accessible Real-Time Reports
Advanced Compression Algorithms
Akamai continues to improve what a CDN video server can do, and it is evident in its advanced capabilities. Deciding to buy CDN from this provider, which is one of the best CDN today, would surely not be a regret.
#3 CloudFlare
Cloudflare's CDN video server is truly optimized to meet the growing demands of website owners for advanced and reliable video-related services. What can you expect from one of the best CDN services in the market, right?
Being in the CDN field for a very long time, it doesn't stop expanding the limits of its CDN video server.
In fact, it can also deliver cloud encoding, and has customizable HTML5 video players integrated into its video hosting, which makes it one of the best CDN services that web owners praise.
You should definitely buy CDN from this provider.if you want to experience how efficient its CDN video server can be.
It also has a free CDN that offers CloudFlare issued SSL certificate, but take note that it doesn't support video hosting capabilities.
Here are the other things that Cloudflare has to offer:
HTTP/2 and SPDY
WebSockets
Restful API
Basic DDoS protection
Globally load-balanced CDN
Operational spam and content scraping protection
With all these things, CloudFlare can certainly improve your engagement, increase your conversion, and, most of all, reduce your cost.
Are there any more reasons not to buy CDN from one best CDN services in the market?
#4 Amazon CloudFront
Cloudfront is the CDN service of (AWS) Amazon Web Services and one of the best CDN services in the competition. And when it comes to video-related features, its CDN video server can truly deliver.
It can support live and on-demand video streaming and can host large downloads and web files thanks to its advanced CDN video server.
Amazon Cloudfront also offers a Pay-As-You-Go payment scheme to protect you from the headaches of upfront costs.
If you want to test how this CDN service performs, you may try its free CDN that will provide you with 50 GB of transfer-out data each month for 12 months. Testing their free CDN first would be great before deciding to buy CDN from them.
Amazon CloudFront is one of the best CDN services that provide reliable protection for your website.
It has Geo-Blocking, CDN domain HTTPS, and Customer cert HTTPS that provides a strong labyrinth of protection that protects your site from various threats.
These features can only be found on one of the best CDN providers in the market, and one major reason why you should buy CDN from Amazon CloudFront.
Here are the other features that this CDN service provides:
Dynamic content delivery
DNS (AWS Route53)
Origin pull protocol
Instant set up
AWS WAF
Anti-DDoS
Analytics
HTTP/2
Purge
IPv6
API
Why the Best Solution for Your Site Could Be Cheap Video CDN?
There's a common stereotype that refers to anything cheap as subpar. While that may apply to several things in a lot of industries, the CDN sector isn't one of them. Video CDN pricing is gradually plummeting because of the vast competition. So much so that cheap video CDN has been a steady go-to solution for hundreds of companies that rely on putting out videos. Feel free to whip up your own video CDN pricing chart and find out how cheap video CDN fairs in the face of massive competition, and you'll find that cheap video CDN still delivers.
The trick here, however, is to be cautiously particular with your locations. Once you know which regions and countries your videos need to be strongest in, it won't be difficult for you to find a CDN video server provider that complements your budget. And since CDN video server providers are a dime a dozen, this shouldn't be challenging.
What to Look for Among CDN Video Server Providers?
Despite video CDN pricing being varied and extensive, there are a few non-negotiable CDN characteristics that shouldn't be compromised.
Firstly, customer service is a component one can never overlook. As mentioned earlier, videos are heavy files and when the majority of your web data is composed of video media, you'll need to be able to turn to a solid bunch of experts for accountability. Always study what people are saying about a provider's customer service team. Not too long from when you sign up, you could be reaching out to them for whatever concern comes your way.
Secondly, a CDN video server provider should be present in places your primary markets reside in. Do you have a thriving Australian audience? Or is your main demographic from Sweden? Or, perhaps, North America? Wherever your valuable audience is, look for a CDN video server provider that has PoPs in places that matter the most to your brand.
Conclusion:
With all the CDN services we've seen above, you would surely agree that these services (including their free CDN offerings) are going all-out to get our precious 'yes.'
With this, choosing the best CDN for our website can be a bit confusing.
With their years of experience in the industry, they are everyday redefining what a CDN video server can deliver for website owners.
Crafting the best CDN service and the most efficient CDN video server is surely always in their minds.
But website owners are wondering if they can take advantage of all these features at a lower price.
And it's something that BelugaCDN is offering to the market right now.
Aside from competing with features and an advanced CDN video server, they also compete with price by offering the same high-end features of other CDN providers at a very low-price.
And If it's not a heaven-sent deal, then we don't know what it is.
Sign up with BelugaCDN to help you efficiently distribute your videos today!
Related Resources